Wilfredo Caraballo, Esq.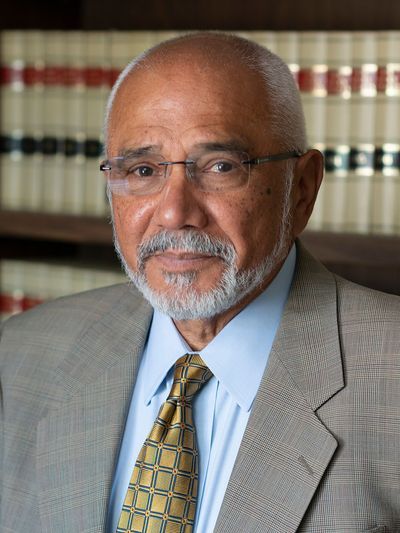 Wilfredo Caraballo, Esq.
Gaccione & Pomaco,PC
RWJBarnabas Health
---
Fred was born in Puerto Rico.  He was brought north at the age of three and lived in Brooklyn for the first few years.  He tells everyone he is a proud product of the South Bronx where his character and commitment to serve were formed.  His mother, Elena, has been the strongest influence in his life. Her strong work ethic coupled with a love for people rubbed off on Fred. Elena didn't make it past the 9th grade but was determined that her boys would be well educated. They both graduated from college at a time when Puerto Rican boys weren't expected to finish high school.
At one point in his life, Fred decided to study for the priesthood.  He considers himself very fortunate to have been in a seminary. During those years Fred spent a lot of time reflecting on his place in society.  His desire to serve drove him to the seminary, what he discovered about himself pushed him in other directions.  He understands that very few people are afforded the opportunity to spend a few years contemplating what they want to do with their lives.
After leaving the seminary, Fred taught 7th and 9th grade science for a year and then became the program director of a settlement house in the South Bronx.  Fred supervised a day camp with 600 children; he ran an after school center; he created tutorials and enrichment programs with the help of college students from Manhattan College and Mount Saint Vincent's.  He would open the gym from 9:30 to midnight for the older guys in the neighborhood in order to keep them off the street.  As much as he was committed to the youngsters in the neighborhood, Fred realized it was time to move on to his life's dream: to become a lawyer.  Even in the seminary, Fred had discussed becoming a canon lawyer.  Fred attended and graduated from New York University School of Law.
Fred is married to Belinda Morton and is the father of Nico, Milena and Marcus.  Belinda is a retired news reporter and host of Another View, a public affairs show focusing on issues affecting the African American community of New Jersey.  They live in Newark.
Life of Service
Fred is a recently retired tenured member of the Law Faculty at Seton Hall University School of Law where he served as the law school's  Associate Dean.  He has a national reputation having been elected as the President of the Hispanic National Bar Association, traveling the country helping to create strong bonds among the various legal communities.  Fred is engaged in the full-time practice of law, specializing in Real Estate Law.  He is with the firm of Gaccione & Pomaco located in Belleville.
Fred is a highly esteemed and respected public servant. He serves on the Clara Maass Board of Trustees.  He has served as a school board member in the South Orange-Maplewood school system as well as a commissioner's appointee to the Newark School Board.  Governor Kean appointed Fred as a member of the Dr. Martin Luther King Memorial Commission. Fred was a member of Governor Florio's cabinet as the Public Advocate and the Public Defender for the State of New Jersey.  He was elected six times to the New Jersey General Assembly where he held many leadership positions including that of Parliamentarian.  During his last term, Fred rose to the position of Speaker Pro Tempore.  Fred served as Chairman of the Regulated
Professions and Independent Authorities Committee and also chaired the Telecommunications and Utilities Committee.  He served as the Vice­ Chairman of the Transportation Committee and was a member of the Legislature's Joint Committee on Ethics. Fred was appointed to numerous special committees looking into issues involving healthcare, pensions and the structure of the State University system. He has been a delegate to the National Democratic Convention and is honored to have been a New Jersey representative to the Electoral College.
While considered a strong voice for consumers, Fred has received special recognition by the business community including the New Jersey Chamber of Commerce and the New Jersey Business and Industry Association.  He has received strong support from various labor unions and organizations.